Snap-on CEO Nicholas "Pinchy" Pinchuck Spills the Beans, Admits to Exploiting Franchisees
Snap-on Inc. (NYSE: SNA) CEO Nicholas Pinchuk shocked the investment community by leaking the secret of the publicly traded tool giant's success at a Boy Scouts of America awards ceremony.
(Crap-on.Com) The CEO of tool giant Snap-on, Inc. (NYSE: SNA) shocked the financial and automotive investment communities when he went off-script during an acceptance speech at a Boy Scouts of America awards dinner in his honor and disclosed the closely guarded secret of his company's success.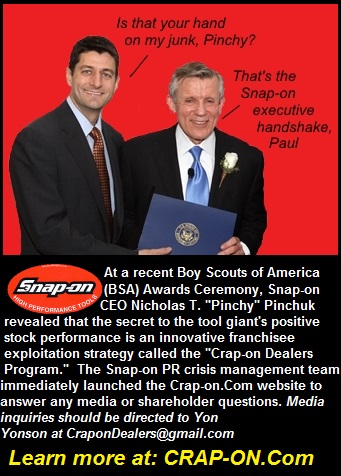 "I guess I just got swept up in the moment," said Nicholas Pinchuk, known affectionately as "Nicky Pinchy," or just "Pinchy" in the Snap-on executive suite.
According to the celebrated Chief Executive Pinchuk, a "perfect storm" of factors contributed to his unprecedented lapse into honesty.
"It was a combination of factors, really," recounted CEO Pinchuk, a decorated Eagle Scout.  "We had been putting some new solvents to the sniff test that afternoon, and I was feeling pretty good.  Plus, my boyhood scoutmaster and several fellow scouts were in the audience, which brought back a rush of emotions for me.  I mean, the principles I apply to running Snap-on every day I learned from them on cold, dark nights in the woods, huddled in pup tents or warming our wienies by the fire."
…the principles I apply to running Snap-on every day I learned from my boyhood scoutmaster and fellow scouts on cold, dark nights in the woods, huddled in pup tents or warming our wienies by the fire…  Nicholas Pinchy Pinchuk, Snap-on CEO & BSA Eagle Scout
"I was also swept up in the theme of the awards ceremony, 'Innovation. Exploitation. Arbitration.'  It's a business approach that has served me and our Snap-on stakeholders well over the years.
On the limo ride to the ceremony, Pinchy found inspiration in the Facebook page of a former top Snap-on franchisee, a 23-year dealer named King Regian.
"When Thomas 'Tommy Boy' Kassouf showed me the Facebook page on his laptop and I read the dealer comments defending us even after we dicked over their fellow dealer, I was a bit emotional.  I mean, here was a guy who had built up a successful route for us and made us a buttload of dinero over two decades," explained Pinchy.  "We 'Crap-on Dealered' his ass and the franchisees were on Facebook still defending us!  I find that level of loyalty, devotion, self-delusion and imbecility touching… I really do."
"Two years ago, we decided we wanted King Regian's lucrative route for our own.  We blocked him from selling his franchise and really put the screws to him.  We refused to reimburse him for, like, $160K worth of tool warranties we owed him.  We made up rules that only applied to him, and reneged on promises we had given in writing.
"At the awards banquet, we seated he and his wife between a Sri Lankan insurance salesman and a regional manager with a stutter and chronic body odor.  Even though they were getting awards, we put them at a rear table next to the bathrooms and gave some neighboring putz a seat at our table," he laughed.
"We made old King Regian the poster boy for our Crap-on Dealers initiative," chuckled Nicky Pinchy with a wink.
"Well, when old King and his smartass wife started posting what we did to him on Facebook, warning the other dealers it could happen to them… those loyal dealers defended US and started blaming King for getting screwed over!
"After Tommy Boy and I tested one more solvent, I had an epiphany.
"That's when I realized that it doesn't matter what we make public, these franchise tools will defend us no matter what!  So we might as well start taking credit for the brilliant money machine we call the Crap-on Dealers Program, or C-O-D as we call it for short."
The Snap-on PR crew launched Crap-on.Com to explain C.O.D. Program & "Screw Drivers" initiative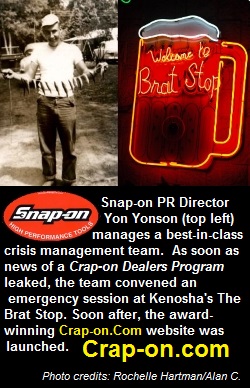 While the reason for Snap-on's consistently positive stock performance (the company has paid dividends every quarter since 1939) is no secret to Wall Street insiders and tool company executives, Pinchuk's speech marked the first time a Snap-on executive publicly credited exploitation of its revolving franchise dealer base as its primary profit driver.
Nicholas "Little Nicky" Pinchuk later acknowledged that it would have been better to have had Board approval and orchestrated disclosure of the internal Crap-on Dealers Program in advance, but he said situations like this is why Snap-on maintains a a crack Public Relations/Crisis Management Team headed by Snap-on Public Relations Director Yon Yonson, who lives in Wisconsin.
Immediately after Pinchuk's historic disclosure, Yon Yonson, who lives in Wisconsin, was flooded by media inquiries.  He quickly initiated the Snap-on PR crisis management protocol, which was put in place for crises exactly like this.
"Oh, jeez, it was a big to-do, believe you me," remembered Wisconsin-born Yonson.  "I started getting calls from all over… I mean, first it was the Manitowoc Nightcrawler, then the Sheboygan Bugle and even the Rhinelander PerchWrapper, which is distributed for free through bait shops all the way up to da U.P.
What was Yon Yonson's reaction to the media onslaught?  "Well my first reaction was What did ol' Pinchy say this time? and my second was Hope there weren't no solvent sniffing involved!
"Honestly, my third thought was that the Leinies* were a bit warm yet, and I'm not one ta complain but I'm gonna go back to Old Style for the next round and hope dere a bit cooler."
Yon Yonson wasted no time getting his team together.  He texted out an emergency message for the PR Team to meet immediately at their Situation Room at The Brat Stop in Kenosha.
"Luckily, we were all already there at The Brat Stop what with it being the Friday Fish Boil and all, except for Sven who was out ice fishing and they were really biting, which is unusual for June, so we told him to just come by The Brat Stop when his cooler was full.  But we told him we were expecting a walleye or two or a string of perch for not making him get on the snow machine & come in right away."
The Snap-on Tools PR crew worked through the night, and several kegs of Old Style, 8 cases of cheese curds and multiple calls to outside PR firms and web development firms later, Crap-on.Com went live.
Yon Yonson updated the Snap-on Public Relations phone greeting to say that anyone with questions or inquiries regarding the Crap-on Dealers Program, Pinchy Pinchuk's comments, the King Regian franchisee dealer fiasco, or help with inhalant abuse should refer to the Crap-on.Com website.
Or just stop by The Brat Stop and ask him in person.  If he's not there, he says Darlene will know where he's at.
*"Leinies" is evidentally a vernacular term in the Wisconite lexicon referring to Leinenkugel, a local alcoholic beverage resembling beer. 
ALSO READ:
Screw Drivers: At Snap-on, it's our Philosophy
Praise for the Crap-on Dealers Program:  Share Your Thoughts!
Snap-on Tools Franchise Lawsuits and Settlements
Snap-on Tool Franchisee Memorial
World's Largest Collection of Humorous Snap-on Pictures – In the World!
This page brought to you by:

Yon Yonson Photo Credit:  Rochelle Hartman
Brat Stop Photo Credit:  Alan C.